An all-star lineup is in BJ Sam's corner for his newest release! "Jesus You Are Worthy" will be coming out soon, and fans of BJ Sam will have plenty to look forward to once it does!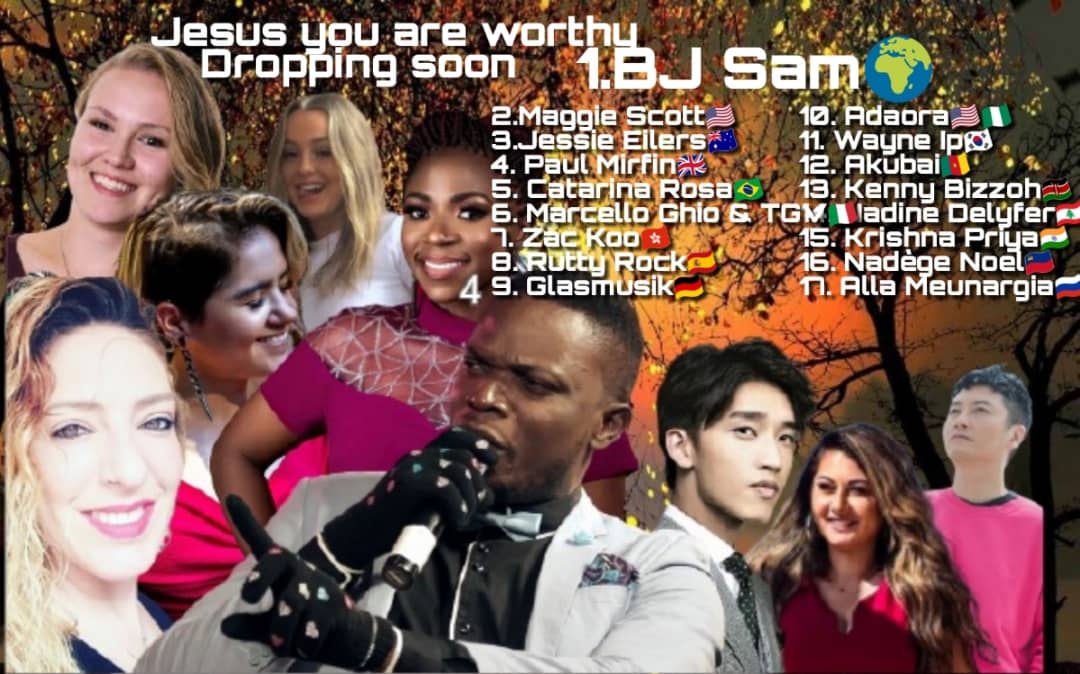 Featuring 16 extra acts aside from BJ Sam himself, this worldwide collaboration is sure to please you no matter what country you hail from! Say hi to the lovely and talented performers!
Maggie Scott from the USA
Jessie Eilers from Australia
Paul Mirfin from the UK
Catarina Rosa from Brazil
Marcello Ghio & TGM from Italy
Zac Koo from Hong Kong
Rutty Rock from Spain
Glasmusik from Germany
Adaora from the USA and Nigeria
Wayne Ip from South Korea
Akubai from Cameroon
Kenny Bizzoh from Kenya
Nadine Delyfer from Lebanon
Krishna Priya from India
Nadège Noel from Liechtenstein
Alla Meunargia from Russia
And of course, the man himself, BJ Sam.
Many of those names may be very familiar to you, and for good reason – each of these performers is a true star in their own right! They've come together to celebrate their shared belief with BJ Sam, showcasing the strength of unity and community that their beliefs afford them. All of these talented people working on this monster project can only mean one thing… this is going to be an incredible release when it eventually drops!
BJ Sam has been lighting up Spotify and all other online retailers and streaming services with his new releases such as "Tu Es Digne Seigneur"!

A rough translation of this song's title is "You Are Worthy, Lord", showing that BJ Sam has always been devoted to both his craft and religion. We'll have to wait and see how good Jesus You Are Worthy is, but we're hoping it's just as good as "Tu Es Digne Seigneur", if not better! Especially with all the talented people contributing to its creation, not just BJ Sam!
But as for "dropping soon"… just when is "soon"?! When will Jesus You Are Worthy finally reach our playlists? There's only one way to find out… following BJ Sam's socials, and of course, his presence on online streaming/ retail platforms like iTunes and Spotify.
There's little wonder he's also known as Sammy Wonder, as you'll see for yourself if you're already not convinced. Just click any of his most played tracks on his Spotify below…