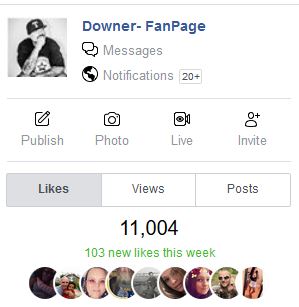 Would you look at that. What a beautiful sight, huh DL fans?! Wait, how long ago were we at 10k? Lemme check… UNDER A MONTH AGO! the 10th of June, and it's the 5th of July at the time of writing! That's some incredible growth! Let's see how quickly we reach 12k. Watch this space. This article will most likely be linked in the 12k article so we can see the answer to that question… and we may even edit this article to reflect that. It's pretty important to us to monitor the growth of the DL fam and see how big it is, see how far we've all come, and that's probably the best way. Get hype!


But as you can see, it's not like this rather impressive number is the full extent of things. Hardly! Keep in mind Suga Boom Boom has 10 million plays on Spotify, and the plays and views of all of Down3r's media online in total is demonstrably bigger, huge even! Millions and millions of plays and fans embracing the viral sensation… but as we know when it comes to Down3r, it's more than catchy beats, amazing flow, or big numbers. It's about the sentimentality and the love behind Down3r's songs, and all of his fans coming together to support each other, and Down3r's endeavours. Come and check out the movement and join the DL fanpage today! Number with these 11 thousand strong and discover the world you've been missing out on, and the moving truth that binds these fans together:
There's a reason that DL's music has qualified for a movie placement- they have true quality, skill, and heart.
Check out DL Down3r at the following official links:
And check out DL in No L's!